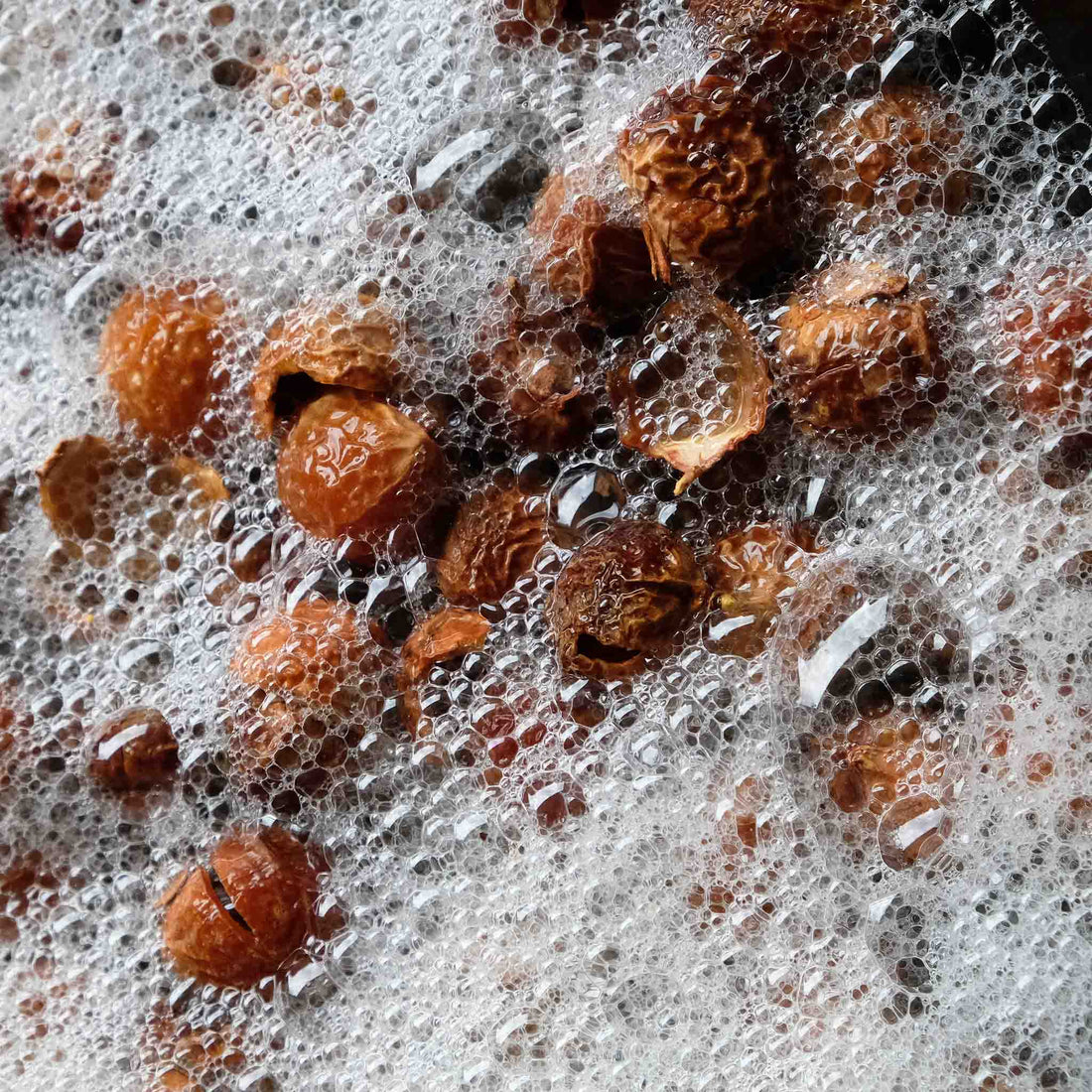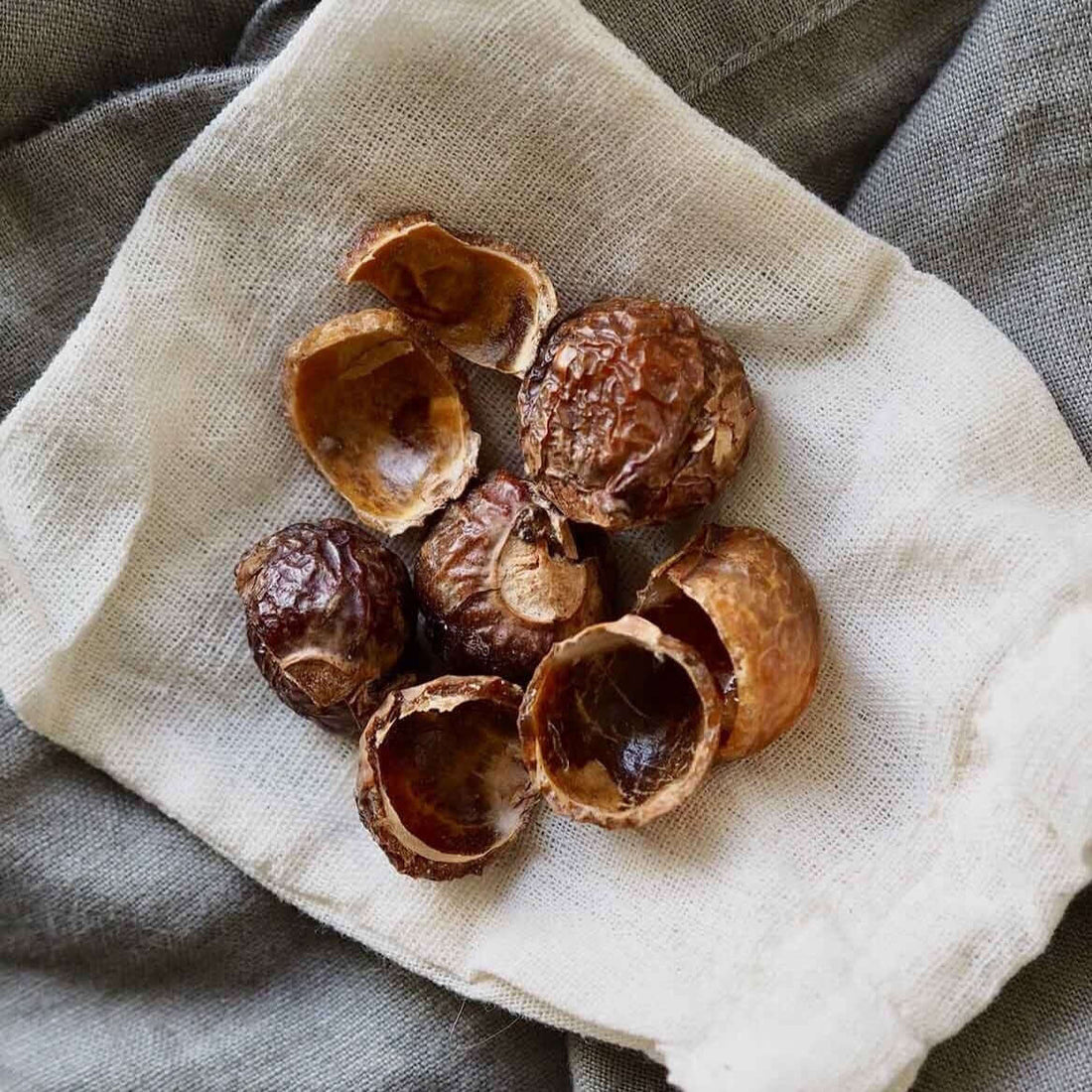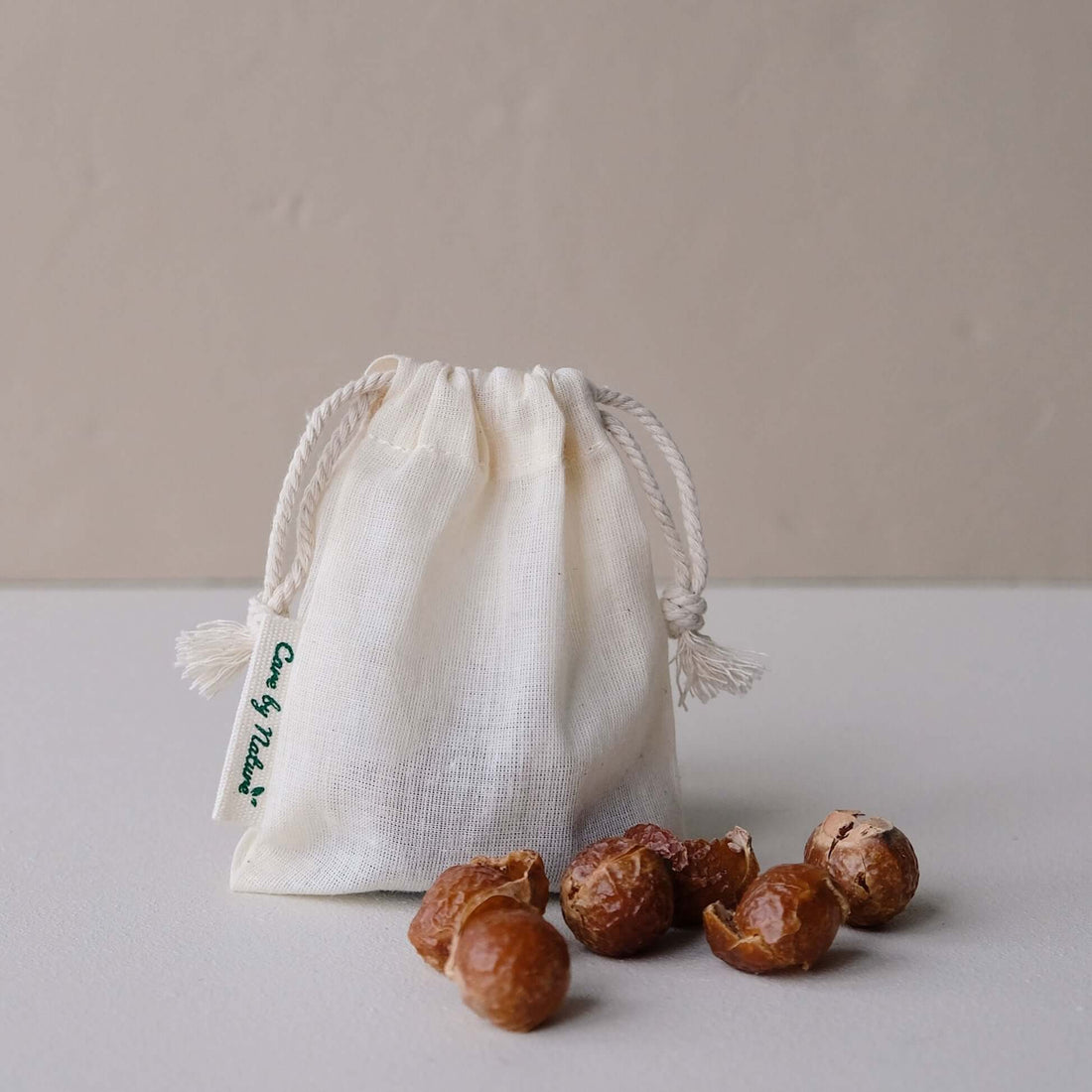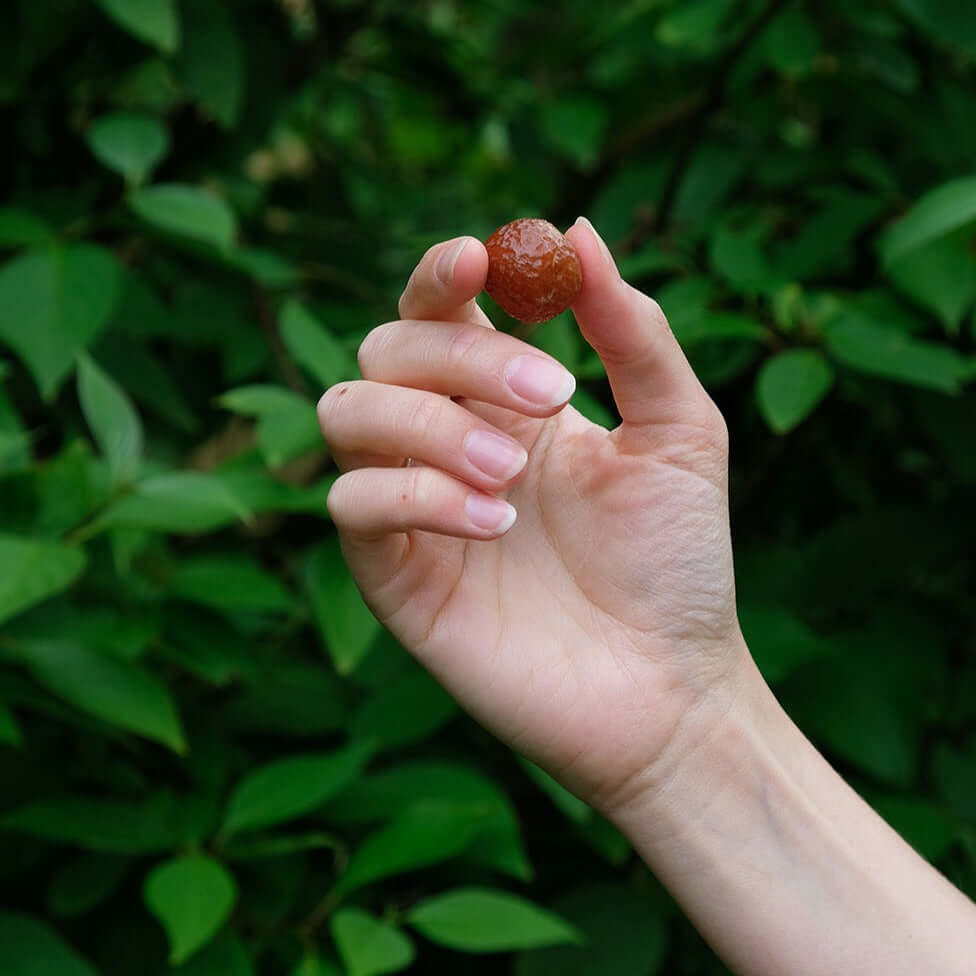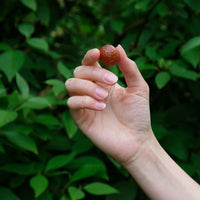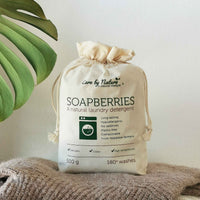 Soapberries (Soap Nuts) - Hypoallergenic and Natural Detergent (500g)
Before we switched from traditional laundry detergent to soapberries, we often experienced skin irritation from the residues of detergents on our clothes - even when we used products with allergy labeling and without perfume.

But after we switched to washing with soapberries, the allergic reactions have completely disappeared, and as a bonus we don't have to buy a lot of plastic packaging.

Soapberries are a 100% natural alternative to traditional detergents and are particularly suitable for washing colored, woolen and delicate clothes. The dried berry shells contain a natural and gentle soap called saponin, which is released in contact with water and washes your clothes clean of everyday dirt.
Fragrance free product

Harvested from wild trees without any pesticides
Soapberries are the fruits of the soap tree Sapindus Mukorossi. Maybe you've heard soapberries referred to as soap nuts or wash nuts? Even though the dried berries have many names, the fruit from the soap tree is in fact a berry - hence the name soapberry.

Many people call the soapberry nature's very own detergent. And for good reason. The dried berries are bursting with natural and gentle soap substances called saponins, which are actually the plant's own protection mechanism against pests.

The saponins activate in contact with water and can wash your clothes clean from everyday dirt - Just like the detergent you might be used to. You can even see the soap as a fine shiny film on the inside of the berries.

Soapberries work as a natural detergent, because the saponins (soap) reduce the surface tension of the water in the washing machine and release dirt from the clothes completely without enzymes and harsh chemicals.
1. Place what is roughly equivalent to the shells of five whole berries in the small cotton wash bag provided. You can use whole, half and quarter shells.

2. Close the small wash bag tightly with a knot and then put the bag directly into the washing drum together with the clothes. It should NOT go in the soap drawer.

3. If there are stains on any of the clothes, treat the stains before washing with a stain remover.

4. Start your washing machine and wash as usual. The higher the temperature you wash with, the fewer washes you can get out of the berries.

– If you wash at 30°C, you can use the berries for approx. 5 times in the washing machine.

– If you wash at 40-60°C, you can use the berries for approx. 4-5 times in the washing machine.

– If you wash at 60-90°C, you can use the berries for approx. 1-3 times in the washing machine.

But you can look at your berries to see when the need to be changed. If the berry shells have become thin, paler in color and no longer have the shiny membrane left on the inside, it is time. Then they are ready to go in the compost, bio bin or directly in your flower bed.

5. Take the clothes out of the washing machine as soon as possible after it is finished. And hang the small bag with soap berries to dry if you don't have to wash again right away.
We dream of giving you the best experience with our soapberries. So here is what you need to know, so you can get the most out of nature's detergent.

Soapberries are a completely natural product with no added chemicals. And this is important to remember, so you don't expect soapberries in itself to do exactly the same as a chemical detergent with a long ingredient list of added substances to e.g. bleach or to remove stains from clothes.

WE DO NOT RECOMMEND SOAPBERRIES AS A STAIN REMOVER

Soapberries do not contain added ingredients that dissolve and remove difficult stains from clothes. If your clothes get a stain, we have developed a natural stain remover as a supplement to the soap berries. With it, you can target and remove the irritating spots as needed.

WE DO NOT RECOMMEND SOAPBERRIES FOR WASHING WHITE

The soapberries are brilliant for your regular laundry of e.g. colored and wool. But we do not recommend soapberries for white wash loads, as the berries do not contain additives such as optical white or bleach, and therefore white clothes will not retain their "whiteness" over time when you wash with soapberries.

SOAPBERRIES ARE FRAGRANCE FREE

When you wash with soapberries, the scent is neutral with no added fragrance. It's the gentlest choice, but if you like your laundry to smell extra fresh and delicious when it comes out of the washing machine, you can add 4-5 drops of our natural laundry scents in the fabric softener drawer.
Our soapberries grow wild and on small private and collectively owned plots of land in the Himalayas in Nepal. The berries are harvested once a year, dried by the sun's rays and the seeds are removed by hand.

Through our local partners, we purchase the soapberries through Nepal's ancient chains of trade. In this way, we act on the terms of the Nepalese and through our work, we can support approx. 130 local families in one of the world's poorest regions.

The soapberries are sent in bulk to our headquarters in Denmark by ship where they are then packed in paper and cotton bags in a protected workshop.

In this way, our production of soapberries lives up to our visions of supporting sustainable growth in Nepal, while at the same time we can support socio-economic initiatives here in Denmark.
The bag contains 500g organic, raw, dried soapberries from Nepal. 100% natural product directly from wild-growing soap trees. No pesticide og chemical use.

Ecocert certified organic product. Certified USDA Organic. Certified 100% compostable.
This is how soapberry works

Sneak peak in your washing machine

DET NATURLIGE VALG FOR DIG MED SART HUD ELLER ALLERGI
Sæbebær er det mest skånsomme vaskemiddel, du kan vaske med. Har du sart hud eller allergi, eller vil du skåne dig og din familie for parfume og unødvendig kemi, har du fundet frem til den perfekte løsning.

Sæbebær er et 100% rent naturprodukt og består faktisk kun af rene tørrede bærskaller. Her finder du ingen volapyk eller ingredienser, du ikke kan udtale. Kun helt skånsom og naturlig sæbe, som bærrene ideholder.
Parfumefrit vaskemiddel, der passer på din hud
Guide: How to wash with soap berries
Put the equivalent of 5 whole berry shells in the small bag
Place the bag in the washing drum
Drip laundry fragrance in the fabric softener drawer if you want a gentle scent
Use household vinegar in the fabric softener drawer if you want softer clothes
Hang the bag to dry after washing and use the berries again up to 5 times.
- Shirley
"As the mother of two boys and the wife of a man with all kinds of allergies, I can really highly recommend the wonderful soap berries. We use them to wash all our clothes, bedding, towels, etc."
- Jane 
"Have used soapberry for several years now and am a huge fan - with clean clothes regardless of the temperature. A huge bonus that they are also good for the environment and the wallet"
- Charlene
"The feeling of washing and cleaning with nature's own resources, without the chemicals, packaging and other impacts of industry, is fantastic. I have used soapberry for almost 5 years and will never use anything else"
- Rick
"I have been using soapberry for laundry and in homemade cleaning products for over two years. I save both money and avoid harmful chemicals and plastic packaging. I am a fan!"
- Berit
"I was very surprised that the soap berries worked! I am very happy with my bag!"
Hear our founder Camilla talk about soap berries for laundry
Much more than laundry
Recipes with soapberry
Soap berries can do much more than just wash clothes clean. Among other things, you can make your own cleaning agents, shampoos and soaps for personal care out of the berry shells. We've shared all our best recipes with you on our recipe page.
Get inspired here
The natural detergent

0% perfume.

0% additives.

100% natural product.
pure love
We take responsibility
It is important to us that soapberries are harvested with respect for nature and that a share is always left for the locals and natural self-sowing. That is why we deal directly with local Nepalese partners and farmers, so that we ensure proper conditions. It is good karma for people and nature.
Go in depth here
Find Care by Nature soap berries in your nearest store

You will also find Care by Nature in supermarkets and small retailers across the country.
find your dealer