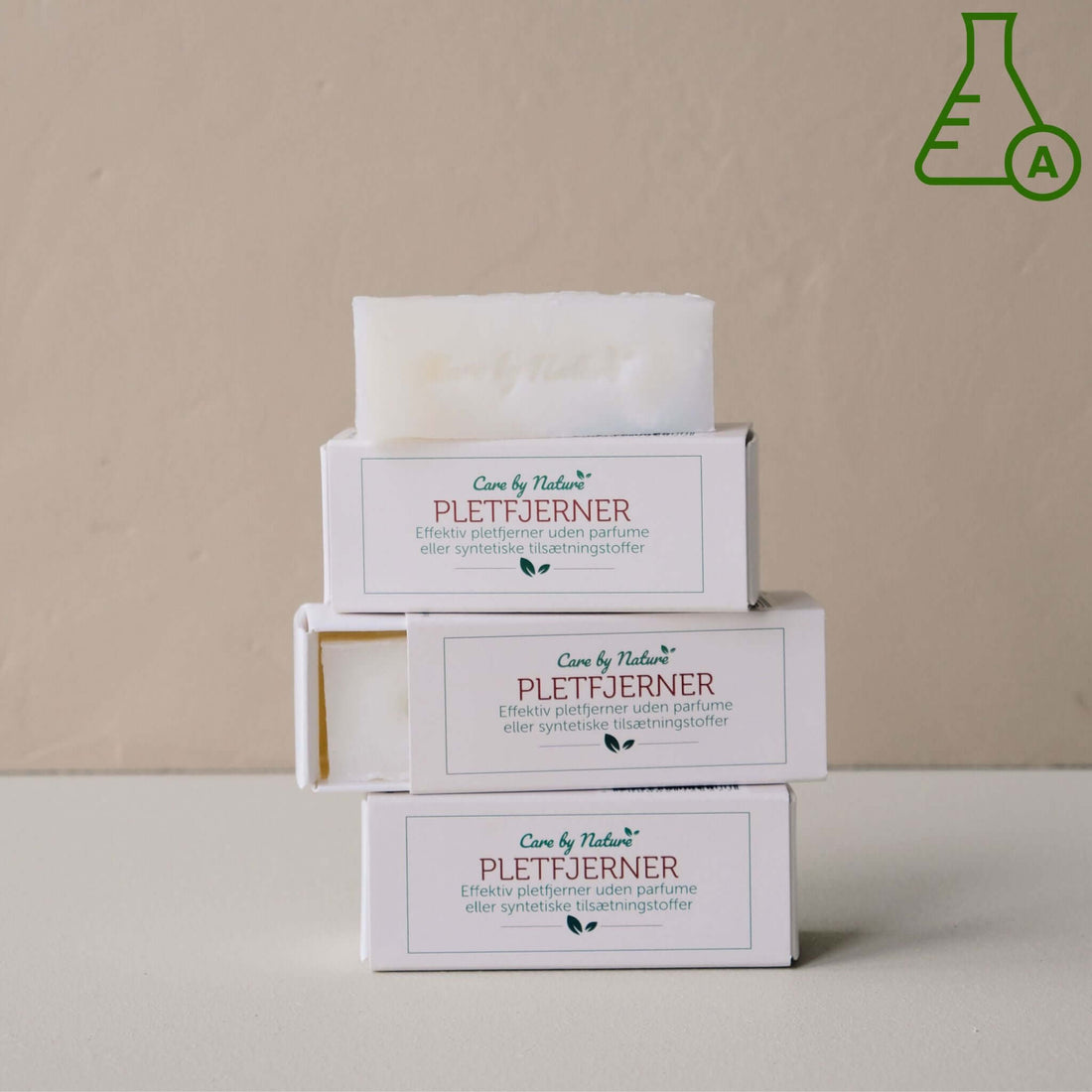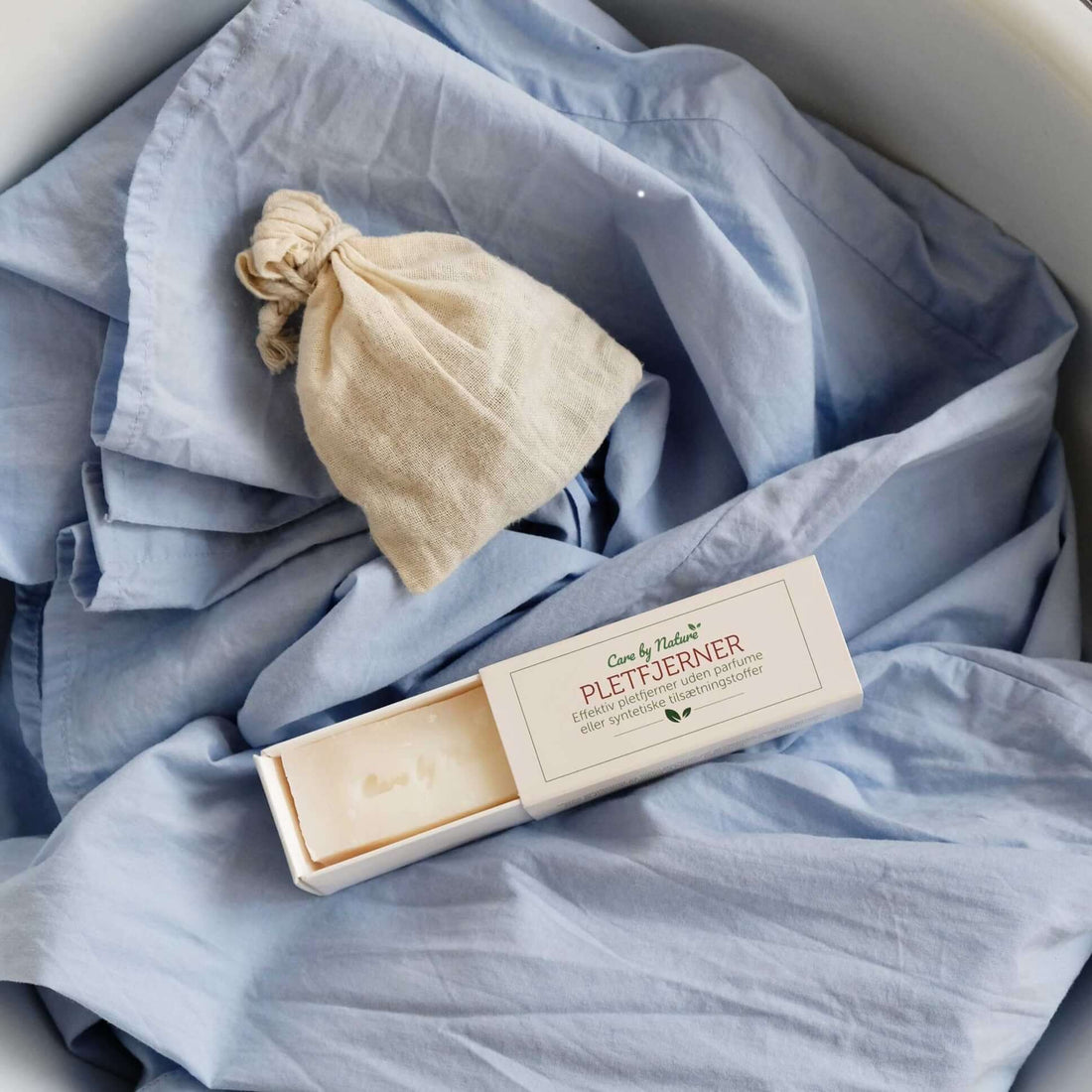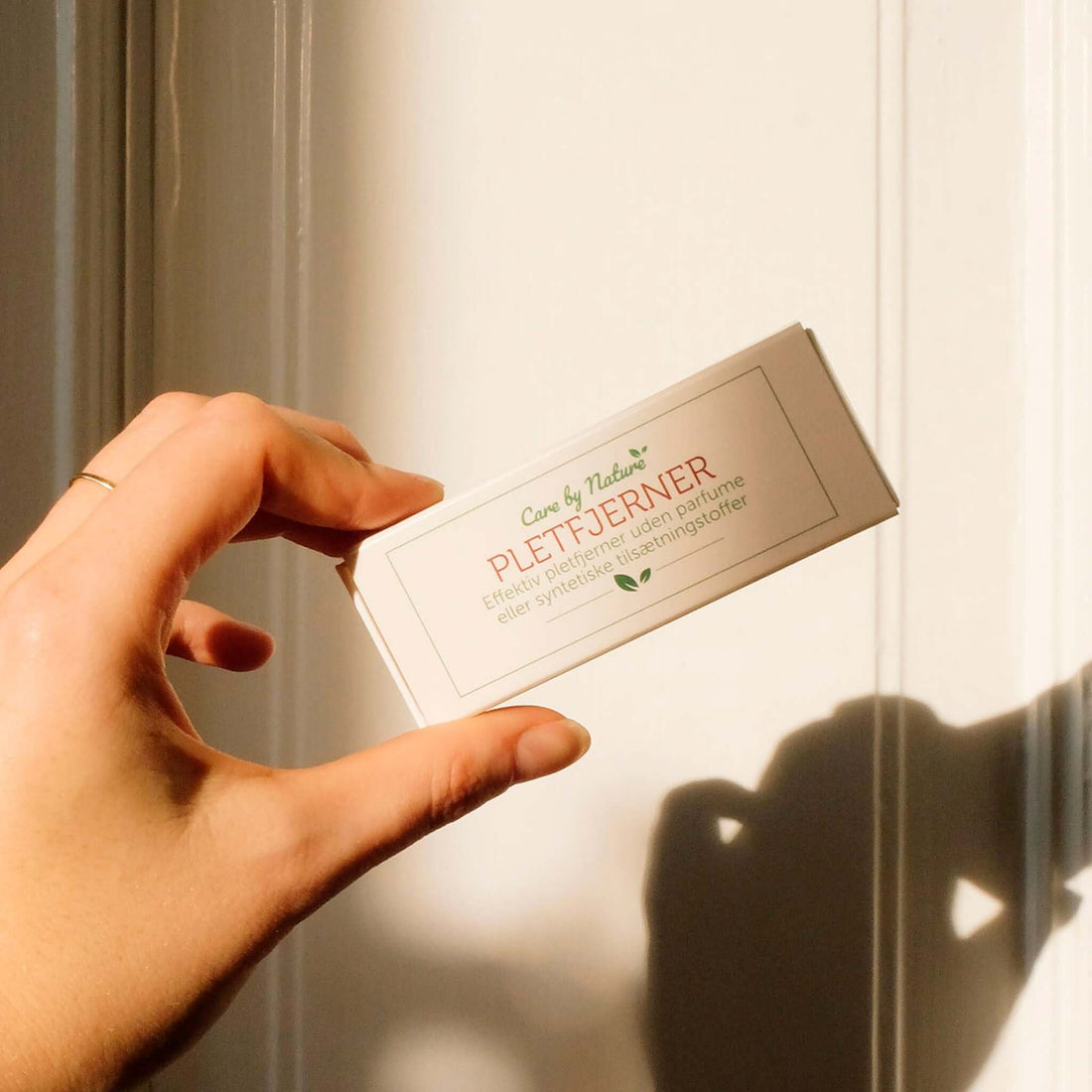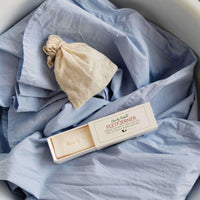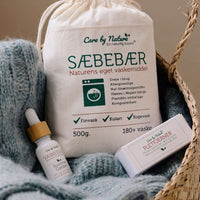 Natural Stain Remover From Care by Nature
We (and you) have gasped time and time again when our natural stain remover has fought stains from blood, red wine, meat sauce, oil and much more and has removed all the stains on the clothes.
However, despite its superpowers, our stain remover does not contain harmful chemicals - in fact, it only contains extracts of soapberries and coconut oil. It doesn't get any more natural than that!
If you wash your clothes with our soapberries as a natural detergant, the stain remover is a must-have for your natural washing kit. This combination allows you to wash ultra-gently and allergy friendly, and at the same time not compromise on removing any annoying stains when an accident has happened.
The stain remover from Care by Nature is rated as 'A grade' from the Danish Consumer Council "Tænk Kemi" (Think Chemistry), which is the best grade, showing that the product is free of a number of problematic ingredients.
Wet the stain remover with water until it becomes creamy and can be applied to the stain without difficulty. The stick must be wet during use, so the product can easily be massaged in. Use more water along the way as needed.

Leave the stain remover on for 20 minutes. The clothes should then be left to soak in water for about two hours.

Finally, wash the garment at the recommended temperature. If you want the best effect of the stain remover, it must be used as soon as possible after the appearance of the stain.

Should not be used for wool and silk.
Our natural and effective stain remover has been developed, tested and produced in collaboration with a Danish female entrepreneur, because we want to support the little green sprouts who, like us, want to run a sustainable business. Entrepreneurship is something that is very close to our hearts because we have been on the same journey ourselves. So it just makes so much sense for us to support the little fish in the water.

The stain remover is mixed, cut and stamped by hand so each stick can look slightly different. That's part of the charm.

Our natural stain remover sticks always come in FSC and Cradle to Cradle certified packaging, which is folded by hand and packed with love.

The circular mindset is a natural part of the way we do business, so it is important to us that our packaging and products support our values.

The natural stain remover is rated 'grade A' from the Danish Consumer Council "Tænk Kemi" (Think Chemistry), which is the best grade, showing that the product is free of a number of problematic ingredients.
72g stain remover stick.

Ingredients: Saponified coconut oil, water, glycerin (from coconut oil), soapberry extract.

Yes, you read that right... Our stain remover stick is made entirely of coconut oil and soapberry extract. This means that our stain remover is completely free of perfume and synthetic additives, but still works like a dream.

In September 2022, the stain remover from Care by Nature is even rated 'grade A' from the Danish Consumer Council "Tænk Kemi" (Think Chemistry), which is the best grade, showing that the product is free of a number of problematic ingredients.
Keep it simple - only 2 ingredients
Only extracts from coconut oil and soapberry
Yes, it is good enough. These are the only ingredients in our delicious natural stain remover stick. But just because the ingredient list is simple to understand, the stain remover is still super duper effective!

We get weekly messages from you that the stain remover has managed all kinds of imaginable (and unimaginable) stains of questionable origin. It is truly a real hero in everyday life, and we (and you) gape time and time again when the stain remover just manages the peas.
We only remove stains on the stain
Many common detergents contain additives which are added to be able to remove stains from the laundry. It sounds smart at first, doesn't it?
⁠
Unfortunately, many people get skin irritation and allergies when harsh enzymes and bleaches are added to the detergent, because it has to be able to remove stains.
⁠
That is why we have developed the stain remover to be used together with our gentle soap berries, so that you can easily get rid of the individual stain locally instead of using stain remover on all the clothes when it is not really necessary.
Your stain remover options
"Huge shout out to your coconut oil stain remover!! It's GOLD when you have a baby who poops outside the diaper! I was skeptical at first, but damn it works!!"
"This little genius of a stain remover has gone and become indispensable in our home."
"At least I'll be getting a new pin soon! It also removes red wine from cloth nappies as one bottle was leaking 😭 even after the red wine had soaked well into the white cloth nappy."
"It's so crazy it only contains those two things 🤩 I'm a big fan of what it does anyway!"
See our natural stain remover in action!
Sneak peak into our production
Our stain removers are handmade by cool Amalie Rosalie, who mixes, cuts and stamps each and every stain remover in her small soap shop in Fredericia. And we love the handmade look it gives the stain remover.
We visited Amalie's workshop and tried our hand at making soap - of course well wrapped in safety equipment. As you can see, we got both cut and stamped stain removers, but we think it's a good thing that Amalie is usually responsible for that part, because it's not as easy as it looks.
Find Care by Nature stain remover in your nearest store

You will also find Care by Nature in supermarkets and small retailers across the country.
find your dealer