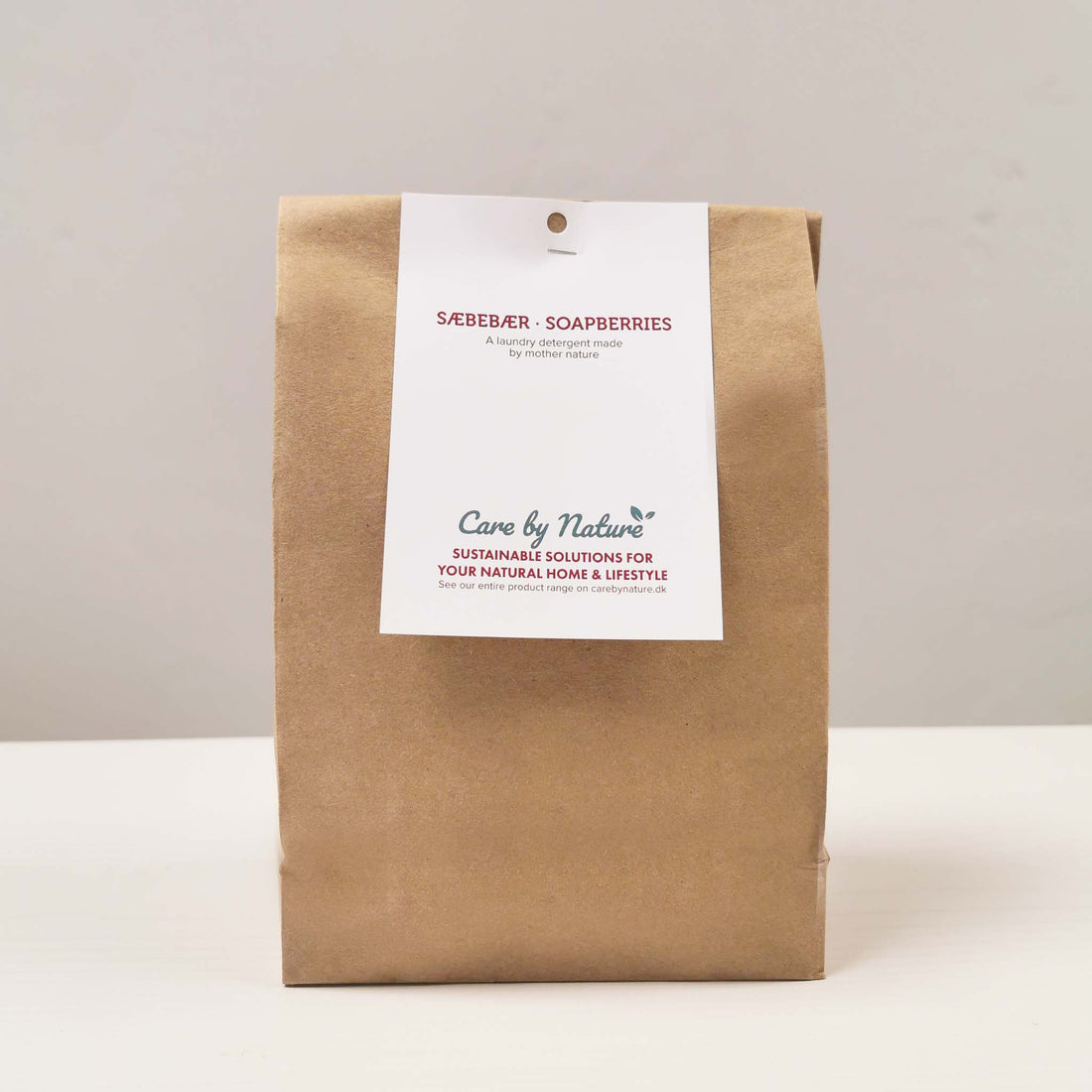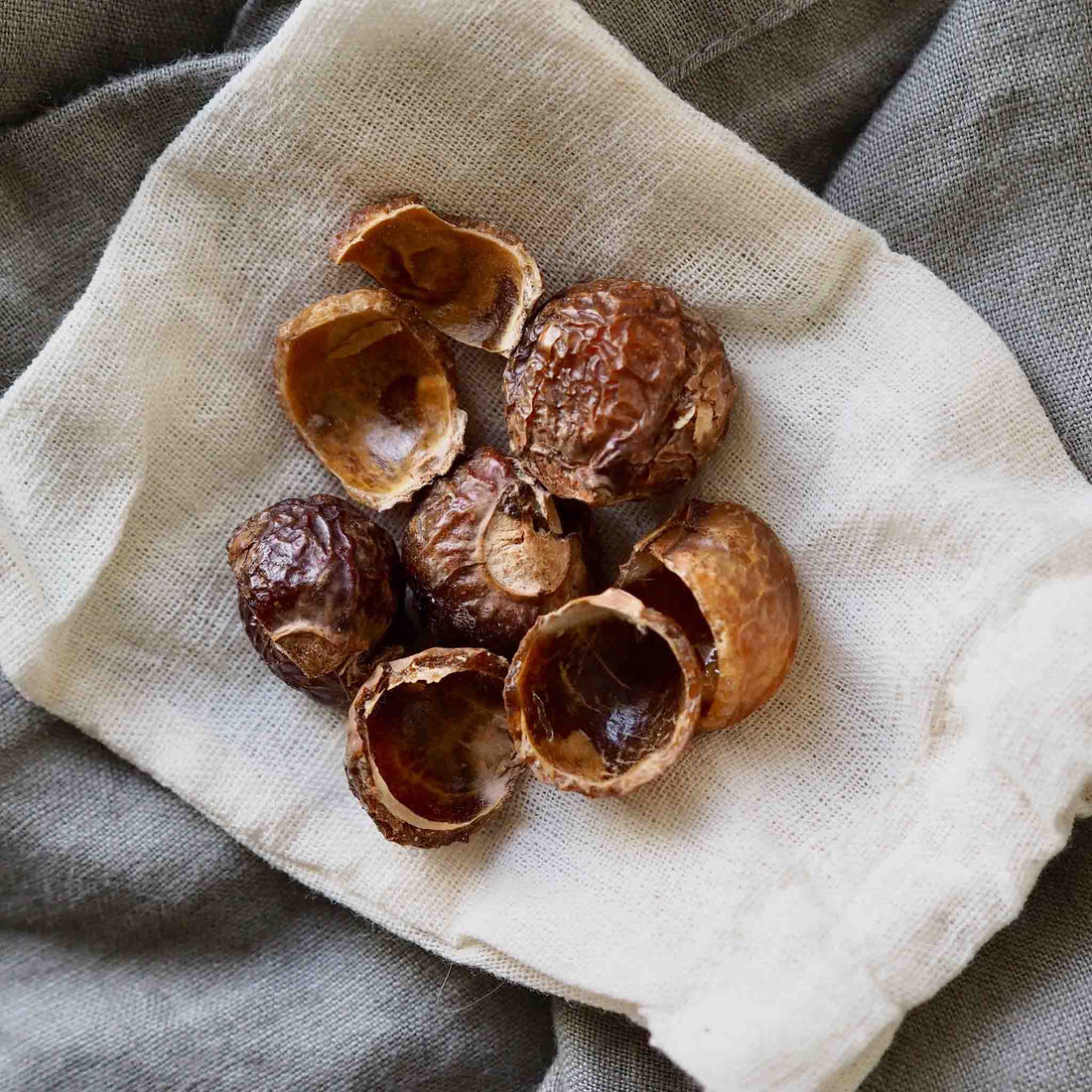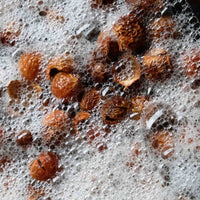 We are minimizing excess packaging with refill bags of Care by Nature soapberries. In this way, we save on the resources in the packaging together, and you can fill up your bag of soapberries at a cheaper price - win win!
If you wash your clothes with our soapberries, then perhaps you already have a used cotton bag from our soap berries lying around at home? The refill bag fits perfectly in there, so you don't have to buy a new outer cotton bag again.

The refill bag contains 300g Care by Nature soapberries and one extra washing bag. The refill bag can be used up to 100+ washes.

Read everything you need to know about Care by Nature soap berries here.
Place what is roughly equivalent to the shells of five whole berries in the small cotton wash bag provided.

Close the bag tightly with a knot and then place the wash bag directly into the washing drum together with the clothes. It should NOT go in the soap drawer.

Start your washing machine and wash as usual. The higher the temperature you wash with, the more soap melts out of the berries, and the fewer washes you get per berry.

If you wash at 30°C, you can use the berries for approx. 5 times in the washing machine.

If you wash at 40-60°C, you can use the berries for approx. 4-5 times in the washing machine.

If you wash at 60-90°C, you can use the berries for approx. 1-3 times in the washing machine.

But you can look at your berries to see when they are used up. You can tell if the shells have become thin and porous, paler in color and no longer have the shiny membrane left on the inside. Then they are ready to go in the trash, compost or directly in your flower bed.
Contains 300g of Ecocert certified organic, dried soapberries from Nepal. Packed in a brown FSC paper bag.

Includes 1 extra washing bag in unbleached cotton.










This is how soapberries work in your washing machine

The natural soap in the berries melts and foams up when they come into contact with the water in your washing machine, and washes the clothes clean of everyday dirt.
Read much more about soapberry here
Guide: How to wash with soap berries
Put the equivalent of 5 whole berry shells in the small bag
Place the small bag in the washing drum
Drip a few drops of laundry scent in the fabric softener drawer if you want a gentle scent
Use household vinegar in the fabric softener drawer if you want softer clothes
Hang the bag to dry after washing and use the soapberries again up to 5 times.
Soapberries are a detergent for all of us who want a product that is as natural as possible
0% Perfume | 0% Additives | 100% natural product
- Shirley
"As the mother of two boys and the wife of a man with all kinds of allergies, I can really highly recommend the wonderful soap berries. We use them to wash all our clothes, bedding, towels, etc."
- Jane 
"Have used soapberry for several years now and am a huge fan - with clean clothes regardless of the temperature. A huge bonus that they are also good for the environment and the wallet"
- Charlene
"The feeling of washing and cleaning with nature's own resources, without the chemicals, packaging and other impacts of industry, is fantastic. I have used soapberry for almost 5 years and will never use anything else"
- Rick
"I have been using soapberry for laundry and in homemade cleaning products for over two years. I save both money and avoid harmful chemicals and plastic packaging. I am a fan!"
- Berit
"I was very surprised that the soap berries worked! I am very happy with my bag!"
Find Care by Nature soap berries in your nearest store

You will also find Care by Nature in supermarkets and small retailers across the country.
find your dealer