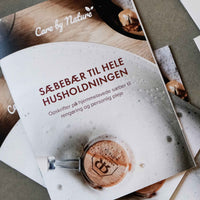 Soap berries are fantastically versatile and can be used for much, much more than just washing clothes. By boiling the soap berries with water, the soap substances are extracted from the shells, and you get a concentrated liquid soap that can be used for both personal care and in the household.

We use the decoction for universal cleaning in the kitchen, bathroom, etc., for washing up, body and hand soap, shampoo, shaving foam, gentle baby wash and more.

We have collected our best recipes with soap berries in this booklet. So it's easy to have in the kitchen when you want to start making your own products for cleaning and personal care.
We hope you'll be as excited about how many possibilities there are with soapberry as we are.
Find us in your nearest store

You will also find Care by Nature in supermarkets and small retailers across the country.
find your dealer